Children's Book Week Giveaway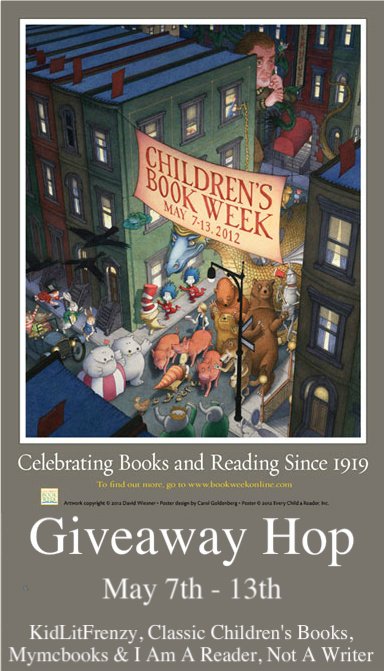 Okay — so I am incred­i­bly excited for this give­away because CHILDREN'S BOOKS!!!!
I had a lot of fun pick­ing out exactly which books to offer up and there were so many more that I want to include but I had to stop some­where. Hope­fully there's a nice selec­tion here for everyone.
There are two give­aways with one win­ner for each.
Also — don't for­get to check back through­out the week for some spe­cial pic­ture book reviews I've got lined up!
Mid­dle Grade Book Giveaway
The choice of one of these fab­u­lous Mid­dle Grade books
Kat Incor­ri­gi­ble by Stephanie Burgis
The Light­ning Thief by Rick Riordan
The Bad Begin­ning by Lemony Snicket
The Curse of the Gloam­glozer by Paul Stew­art and Chris Riddell
The 10 pm Ques­tion by Kate De Goldi
The Twits by Roald Dahl
Vic­to­ria and the Rogue by Meg Cabot
Harry and the Wrin­klies by Alan Temperley
Anne of Green Gables by L. M Montgomery
The Recruit by Robert Muchamore
These are all per­sonal favourites of mine, some of which I have reviewed on this blog in the past (click links to read reviews). All are per­fect for kids and adults alike.
Pic­ture Book Giveaway
Win­ner chooses from one of these beau­ti­fully writ­ten and illus­trated pic­ture books
The Red Tree by Shaun Tan
The True Story of Three Lit­tle Pigs by Jon Sci­eszka and Lane Smith
Where the Wild Things Are by Mau­rice Sendak
The Wolves in the Walls by Neil Gaiman and Dave McKean
Snow White by Josephine Poole and Angela Barrett
Lost and Found by Oliver Jeffers
The Pirate-Cruncher by Jonny Duddle
Pic­ture books aren't just for chil­dren, these ones I've cho­sen have been stun­ningly pro­duced and include some of my favourite illus­tra­tors work­ing today.
RULES
Only open to coun­tries The Book Depos­i­tory ships free to
You can enter both give­aways but only one entry per per­son, per giveaway!
Give­away runs from 7th May – 13th May 2012
Win­ner must choose from the books listed, how­ever if there is a book within the same series that you would pre­fer since you already own the first, let me know and I'll see what I can do.
Win­ners have 48 hours to respond via email before another win­ner is chosen
Check out my gen­eral give­away pol­icy here
Check out the rest of the blogs tak­ing part here, for a chance to win lots of great prizes!
Good luck and have fun!
(Note this is my first time using Raf­fle­copter so please let me know if it isn't work­ing cor­rectly or if I've done some­thing wrong!)